Secure SD-WAN for Multi-Cloud & Hybrid Cloud Environments
The Current State of Multi-Cloud & Hybrid Cloud
And these numbers from Flexera are not unique. Businesses are rapidly embracing multi-cloud and hybrid cloud environments because of their flexibility. They allow organizations to avoid vendor lock-in and leverage the best and/or most cost-effective cloud services available for a given business need.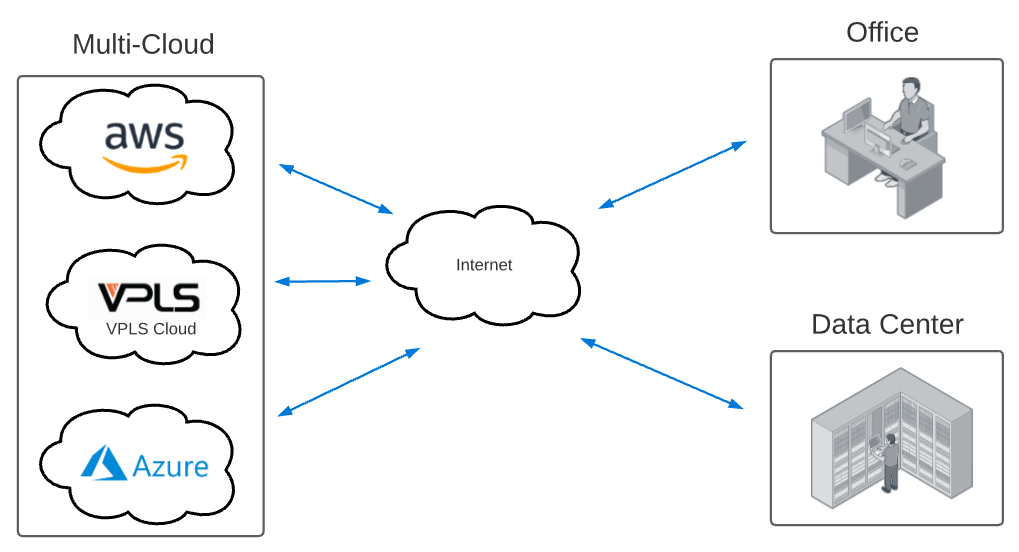 However, while businesses are eager to take advantage of the flexibility a multi-cloud or hybrid cloud environment can offer, providing a consistent user experience to cloud environments over an Internet connection can feel like an uphill battle. Much of the connectivity path will be out of your control, and often riddled with many latency-inducing hops.
In addition, securely connecting workloads together between multiple clouds, as well as connecting your on-prem data center and office to these cloud environments, can be complex. Even if you have the staff with cloud networking and security expertise, the lack of end-to-end visibility and centralized management across multiple cloud environments increases the risk of breaches, data loss, and compliance penalties.
Cloud On-Ramps & VPLS CloudHop™
Cloud on-ramps directly address the need for a consistent user experience by bypassing the Internet and instead providing your users with a high speed, low latency connection to a cloud provider. Services like Direct Connect from AWS and ExpressRoute from Azure allow a business, via a service provider like VPLS, to establish these direct links to their cloud environments, bypassing the many hops it would normally take to reach that cloud via the Internet. This dedicated link guarantees a reliable, consistent experience for users and their cloud assets.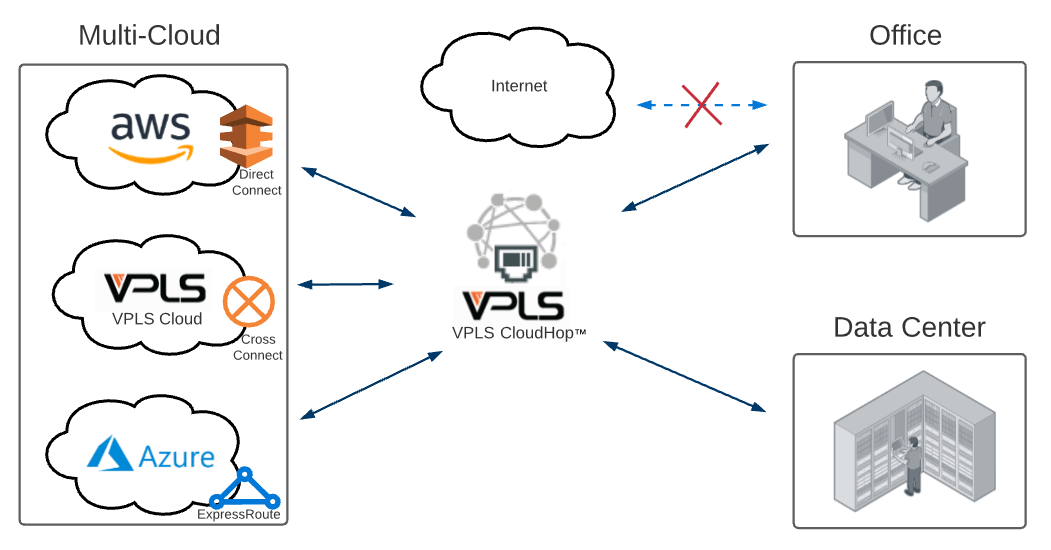 However, with multi-cloud architectures, establishing and managing all of these cloud on-ramps can be an administrative burden. In addition, the more cloud on-ramps you have, the less ROI each of these direct links provide. VPLS CloudHop™ solves these challenges by having VPLS do the administrative legwork to maintain these direct links with the cloud providers. Instead, we just provide your business a single, cost-effective connection point that can be provisioned to connect to any and all major public cloud providers.
Combine CloudHop™ with Internet or Ethernet Transport services from VPLS, and we can extend your multi-cloud environment all the way back your offices and existing data centers.
Intelligent Path Selection & Path Redundancy with Secure SD-WAN
Although cloud on-ramps with VPLS CloudHop™ and VPLS Internet and/or Ethernet Transport services will provide the best user experience for your business' multi-cloud and hybrid cloud environments, there is a possibility that not all of your cloud workloads need this level of performance.
With VPLS's Managed Secure SD-WAN service, all possible paths become part of a unified SD-WAN "overlay" network, and each path is measured for the current latency, jitter, and packet loss. SD-WAN then, in real-time, can intelligently route traffic across the links that meet your defined SLA for that specific application or traffic flow. VPLS's Managed Secure SD-WAN service is application aware, powered by a database of known applications, but also supporting custom application signatures. This means traffic can be identified and steered very granularly, but without requiring complex rules to do so.
If more than one path meets your SLA, rules can be engineered to favor one link, or load balance traffic across multiple links. This allows you to provision and use a dedicated cloud on-ramp with just the right bandwidth requirements for critical workloads and use the lower cost path over the Internet only when it is performing up to the mark.
All SD-WAN endpoints can be centrally managed and orchestrated in a "single pane of glass", giving you end-to-end actionable visibility across all cloud environments. With deep cloud-native integrations, VPLS' Managed Secure SD-WAN service not only provides the performance that you need in multi-cloud and hybrid cloud architectures, but also provides advanced, industry-leading prevention and detection capabilities as your cloud next-gen firewall.
Optimize Your Multi-Cloud and Hybrid Cloud Environments with VPLS
To recap, businesses are rapidly adopting multi-cloud and hybrid cloud environments for their flexibility, but getting blindsided with unnecessary expense, configuration complexities, and unpredictable network performance.
Whether your business is already in this boat, or you are soon to adopt a multi-cloud or hybrid cloud architecture and want to do it right the first time, VPLS can guide your organization to optimize costs, provide a consistent user experience, and secure all of your cloud environments with industry-leading protection managed by a single pane of glass.
With the help of VPLS CloudHop™, our Internet and/or Ethernet Transport services, and our fully-managed Secure SD-WAN-as-a-Service, your business can take charge of this unstoppable industry move towards multi-cloud and hybrid cloud environments, and continue serving your customers in bigger and better ways.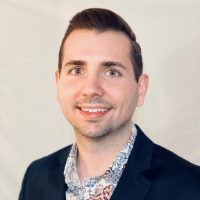 Read More from this Author
If you enjoyed this article, you'll probably like: