Whether you need to cross-connect within one of our data centers, to inter-connect your on-premises locations, a low latency connection from your office back to the data center, or a cloud on-ramp to connect directly to a public cloud provider, VPLS has a transport service for that.
Effortlessly connect with VPLS's Ethernet Transport services
VPLS offers a multitude of carrier-grade transport options to interconnect your business within the data center, between facilities, or across town.
Cross-connects provide you a physical connection between two different points within a VPLS data center. These direct connections establish a reliable, high-speed connection between two different devices or colocation cabinets of your own, or between your business and another entity, such as a carrier, an IT service provider, or a business partner.
VPLS can deploy your cross-connects in the following physical medium options
Single-mode fiber (SMF)
Multi-mode fiber (MMF)
CAT 5E/6 copper (twisted pair)
POTS
COAX
Inter-site connectivity allows your business to extend its network between locations, or to extend the on-premise network to the data center, all over a secure layer 1 or layer 2 connection. This differs from our layer 3 Internet service in that your two networks will be directly connected over a low latency link – you won't have to depend on Internet hops to get your packets to their destination.
We offer inter-site connectivity in several delivery options, at speeds all the way up to 10 Gbps.
Dark fiber from VPLS provides your business with their own private, dedicated fiber connection between your offices, or your office and the closest data center or POP. Dark fiber is a pure layer 1 solution – there is no middleman facilitating this point-to-point connectivity. This allows your business greater deployment flexibility, as you will be in charge of deciding what equipment and optics to use at either end. Further, if/when the business needs change, your team can make network changes without any coordination efforts with the provider.
Wavelength division multiplexing, typically offered by VPLS in the form of dense wavelength division multiplexing (DWDM), allows multiple signals to be carried on a single fiber optic cable instead of just one signal. This mouthful-of-a-technology translates to a more cost-effective solution than dark fiber for interconnecting your locations, while still providing your business with the same point-to-point connectivity and bandwidth capabilities. Although waves provide less flexibility in equipment and optic selection, cost and availability make a wave connection an enticing choice for inter-site connectivity.
MPLS (Multiprotocol Label Switching) allows VPLS (our company name, not the protocol) to virtually connect two of your business' locations together, even over a vast distance, as if they were directly connected or just a single hop away. Like our other transport services, MPLS guarantees fast, low-latency connectivity for your mission critical applications, but between places where a dark fiber run or wave connection is not available or cost prohibitive.
MPLS is commonly referred to as MPLS VPN because it connects your locations over a private, virtual link that runs through our VPLS network backbone. Unlike a VPN tunnel established over broadband, MPLS from VPLS requires no VPN configuration on your end and ensures your connection will always perform to defined SLAs – a must for latency-sensitive applications like voice and video.
Cloud On-Ramps & Multicloud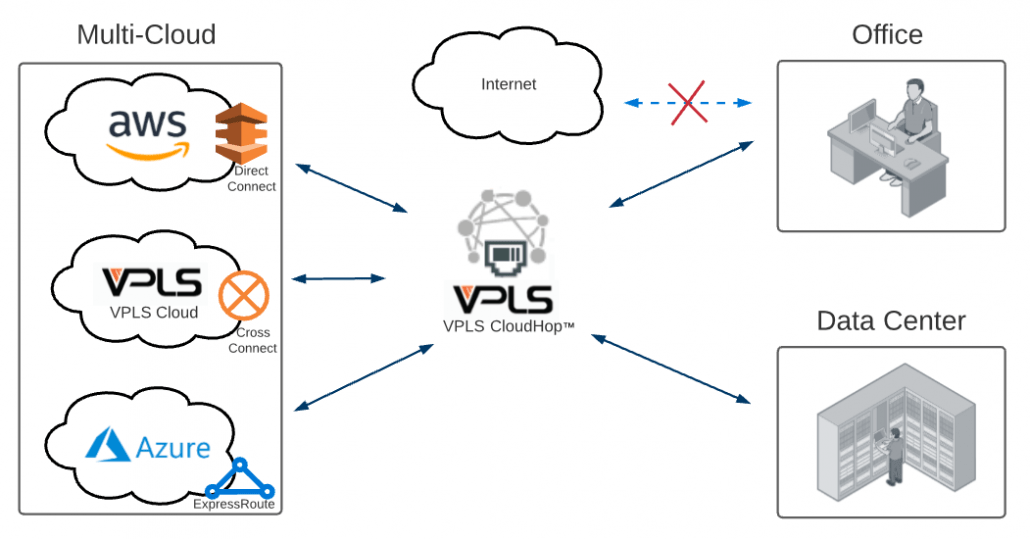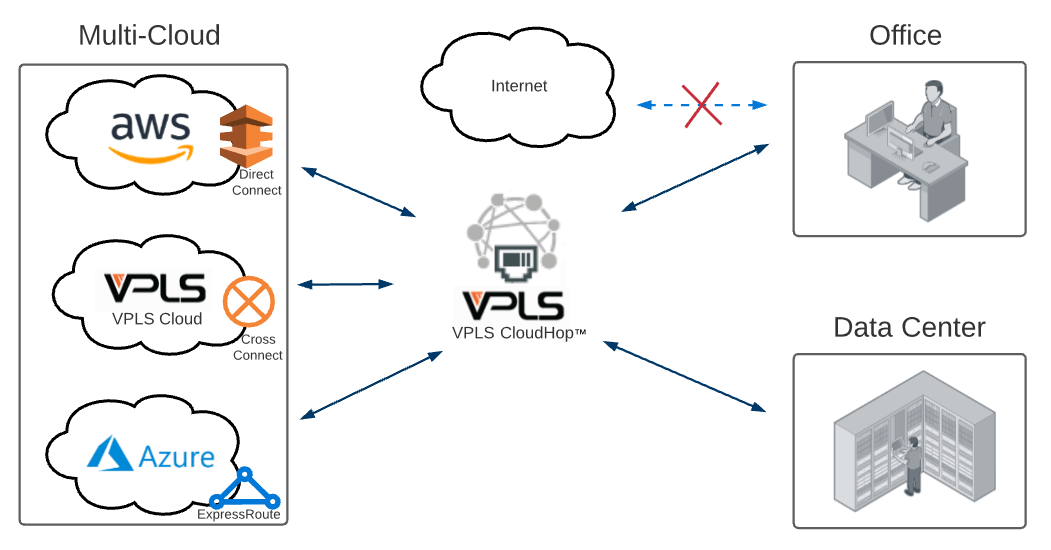 Through the power of CloudHop™, VPLS offers cloud on-ramp services for customers who need a low latency, direct connection to a single public cloud provider, such as AWS, Azure, or Google Cloud (GCP).
Does your business have presence in more than one public cloud? With CloudHop™, your business can quickly achieve a high-performance multicloud architecture, providing low latency interconnectivity between these cloud providers and your own VPLS private cloud and/or on-premises network.
Read more about VPLS' cloud on-ramps and multicloud connectivity options on our Public Cloud services page.
Today's distributed organizations require high performance inter-site connectivity for mission critical and latency sensitive applications. However, path redundancy and circuit costs must also be added to the equation when deciding on a network topology to meet these business requirements. With Secure SD-WAN, VPLS provides our customers with secure, intelligent, and dynamic path selection and traffic steering between their HQ, the data center, the cloud, and any number of remote offices.
Secure SD-WAN is a security-first software-defined WAN architecture, and can leverage any type of circuit – MPLS, dark fiber, wave connections, Internet from VPLS, broadband, cellular. These links become members of the SD-WAN underlay network, which forms the underlying fabric of your own customized SD-WAN topology. Rather than sending all traffic over a single costly, high-performance link, a secure SD-WAN design ensures critical applications always get the best path – fastest, lowest latency, lowest jitter – and non-critical applications can use any of the other more cost-effective paths that meet their required SLAs.
Scalable speeds all the way up to 10 Gbps
A direct, low latency connection between cabinets, locations, or to the cloud 
A multitude of media and transport options available to meet your business' unique requirements
Live 24x7x365 support with VPLS in-house network experts and remote hands
Achieve your business' interconnection needs with Ethernet Transport services from VPLS. Chat with a VPLS engineer today about which type of inter-site connectivity is right for you, as well as how to achieve path and port redundancy!