Backup & Disaster Recovery
Both backup and disaster recovery are crucial to any business. With our wide portfolio of managed and professional services, VPLS can help address key elements of your Business Continuity plan.
Stabilize your organization in the event of a disaster
Both backup and disaster recovery are crucial to have in an efficient business as technology improves and as more and more data is being shared across all departments. Backups and disaster recovery is a subset of the Business Continuity (BC) plan seeking to identify all likely single-points of failure (SPOF), and implement equipment, processes and procedures to address each one – including backups and DR provisioning.
VPLS is your partner for Backup as a Service (BaaS) and Disaster Recovery as a Service (DRaaS). We incorporate various backup technologies coupled with our Cloud enterprise to deliver tailored solutions to meet your RTO/RPO. VPLS Cloud Pool resources can also be consumed on a Pay-Per-Use or subscription basis for on-demand infrastructure. Our consulting engineers will work with your team to discuss which applications are the most critical in ensuring the fastest recovery time and design a scalable and efficient Disaster Recovery solution.
Backup as a Service (BaaS)
Run & Manage backups on VPLS and/or own enterprise infrastructure
24/7 Maintenance & Support
Access to support anytime, anywhere via the VPLS 24/7 Help Desk
Achieve industry-standard regulatory compliance (HIPAA, SOC2)
Disaster Recovery as a Service (DRaaS)
Stand up your backup with an extra layer of hardware and software infrastructure planned and managed by VPLS
Get back online in seconds, not minutes
Replicate your local backups to one of the globally diverse VPLS Data Centers of your choosing
Evolve your IT investment from a CapEx to an OpEx finance model
Protect your organization from threats with multiple DRaaS options
At any point in time human error, hardware failure, earthquakes, fires and power outages can threaten the livelihood of an organization. Some preparation and planning can help prevent needless losses in your organization. Studies have shown that over 65% of data loss is a result of human error not natural disasters.
VPLS can help protect your organization from threats before any problems arise with multiple options for Disaster Recovery as a Service and Cloud Replication.
Nimble-to-Nimble Replication
As a premier Nimble Storage partner, VPLS offers offsite replication services to the Cloud for enhanced data protection and Disaster Recovery solutions.
VPLS Nimble Storage Replication Services to the Cloud are offered at our Los Angeles, Phoenix, and Ashburn data centers for additional redundancy. Our site-to-site VPN connections add enhanced data security.
In a Disaster Recovery scenario, VPLS Cloud Pool resources can be consumed on a Pay-Per-Use or subscription basis for on-demand infrastructure. In most cases, Recovery Time Objective (RTO) is less than 4 hours and Recovery Point Objective (RPO) is the last replication snapshot. Our team of Cloud experts monitor and ensure data is replicated and bi-annual tests are scheduled with the customer to ensure data integrity. Nimble Storage has built-in features such as Efficient Replication for compressing copies and changes that assist with Disaster Recovery replication over the WAN. Integrate VMware Site Recovery Manager (SRM) for simplified Disaster Recovery testing in fail-over and fail-back scenarios.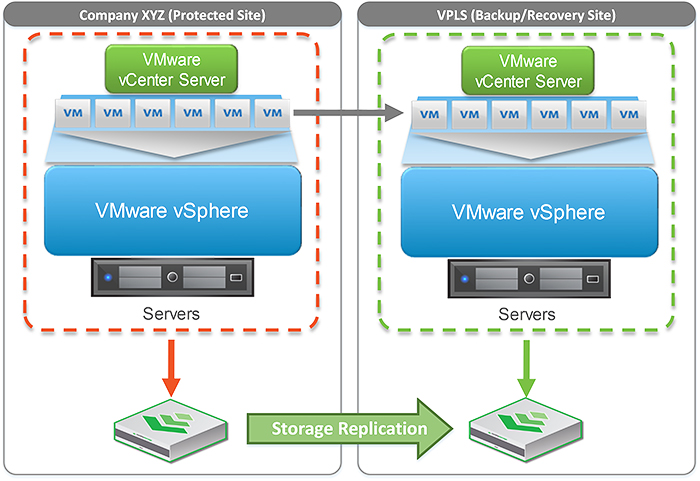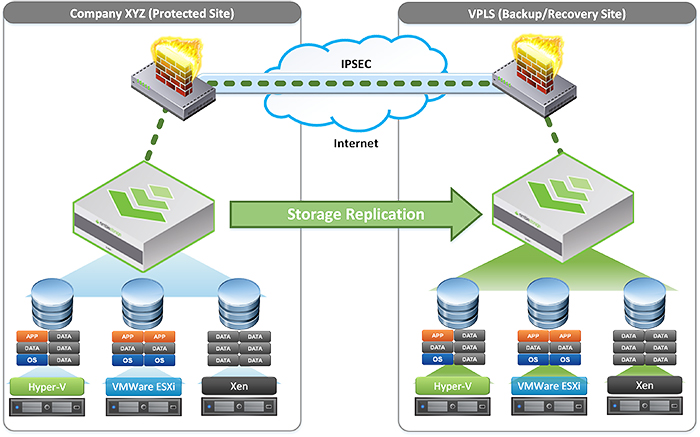 Cloud Replication with Zerto
VPLS can help your organization continue after a disaster with Zerto cloud replication. Hypervisor-based replication technology simplifies the complications of generating a disaster recovery plan for VMware cloud services, by allowing the replication process to move from the physical level of storage to the virtual level of the hypervisor. VPLS can help automate the recovery process by removing the complications of storage to storage replication and allowing scripts to be ran that can change server IP addresses etc. Other benefits include:
Cloud Replication with Zerto is offered in the following VPLS data centers: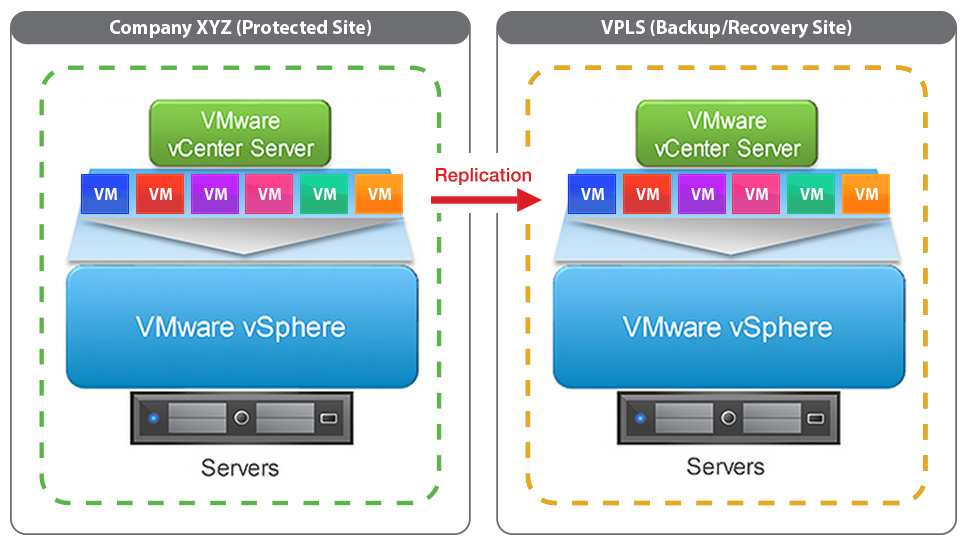 VPLS also supports replication to the Cloud services utilizing Veeam which incorporates traditional VPN tunnels to achieve faster recovery times with full network availability. VPLS Cloud resources are consumed on a pay-per-use model during the time the virtual machines are up and running. VPLS supports Microsoft Hyper-V and VMware vSphere and vCloud Director for underlying hypervisors. Veeam Cloud Connect customers can take advantage of a Veeam Availability Suite v10 feature called Replication from Backup which will allow the virtual machine to be brought up online without impacting the production environment.
Starting from Veeam Availability Suite v10, the need for VPN tunnels has been eliminated with Veeam Cloud Connect which delivers secure backups to the Cloud with AES 256 bit encryption in transit and at rest. Existing Veeam customers will be presented a Cloud repository to send backups to and have full visibility into the backup job task status, storage quota used and even initiate restores. Veeam Backup and Replication Enterprise customers can take full advantage of WAN acceleration technology to reduce bandwidth and backup times. With WAN acceleration enabled customers can achieve up to 50x faster replication, and up to 20x reduction in bandwidth consumption.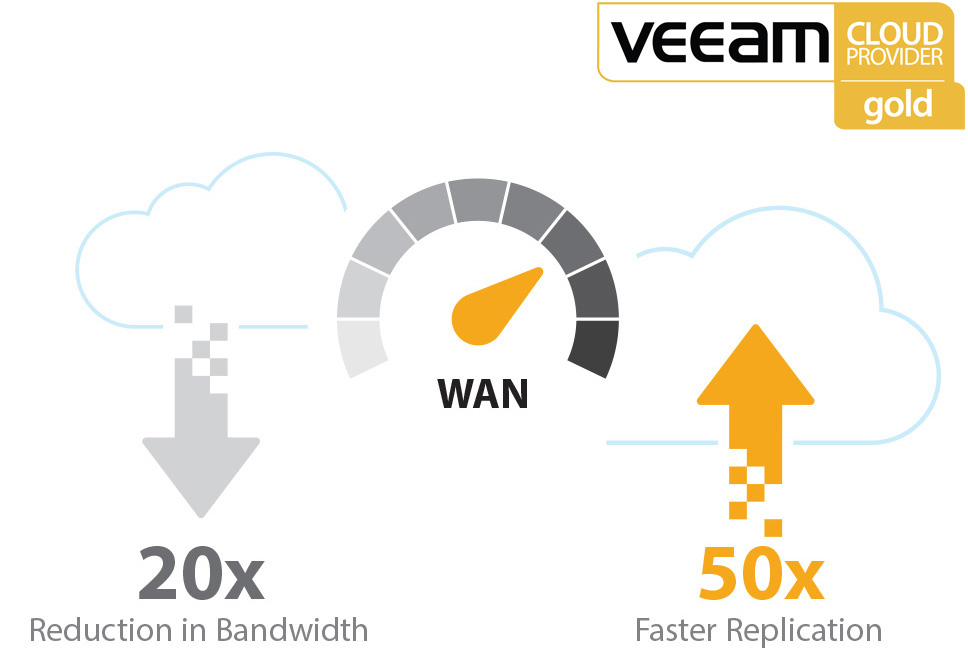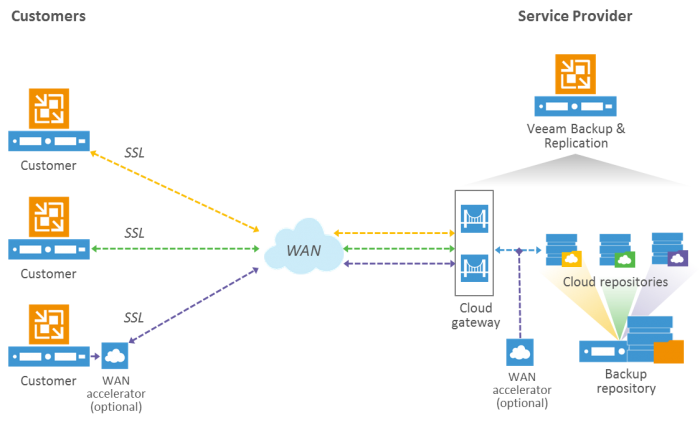 Customized Backup and Disaster Recovery Services
One of the biggest differences between traditional back-end disaster recovery services and VPLS is the detail and quality of how we personalize solutions for you. Many service providers skip this step in order to save time and scale up at a rapid pace. At VPLS, we believe that each business requires a personal touch. Communication and transparency are key values in this regard, and we aim to showcase these values with every solution that we offer you. Your data is far too important to be left exposed and we understand that fully.
Risk and loss mitigation are extremely important when it comes to protecting your business. In the networking and data world, this is no different. Your data is what runs your business, drives revenue, and keeps millions of variables in line behind the scenes. Data disasters happen. Protecting yourself against them and planning a recovery strategy before they happen is the key to lowering the volatile risks that they bring. With backup and disaster recovery services from VPLS, you can rest assured that your data security has a plan behind it. There are no shortcuts, no cookie-cutter solutions, and no low-hanging fruit that's overlooked.
To learn more about all of the great backup and disaster recovery options we can provide you and your business, contact us here. Our team of skilled engineers and experts can walk you through our platform, protocols, and service scopes. If you'd like to schedule a discovery call, please indicate so in your inquiry. You can also call VPLS directly via telephone at (888) 365-2656.