For teams standing up new IT infrastructure, migrating existing applications to the cloud, or seeking a hybrid cloud experience, VPLS offers cost-effective solutions comparable to major cloud providers.
VPLS Cloud & The VPLS Ecosystem
On its own, the VPLS Cloud, built upon our carrier-grade network, offers many diverse hosting, storage, networking, and power options to help your business meet its cloud objectives. However, when you combine VPLS Cloud with the rest of the services offered in the VPLS ecosystem, we can ensure your business is prepared to face the complex demands of today's distributed, cloud-centric world. 
Looking for infrastructure-as-a-service? VPLS offers cost-effective hosting and storage IaaS in the VPLS Cloud that is comparable in feature set, flexibility, and SLAs to the major public cloud providers. 
Wanting to build your own off-site private cloud? VPLS offers extensive colocation services to make building your own secure and reliable private cloud in one of our data centers simple and cost-effective. 
Are your users and applications distributed among several locations and public clouds? Internet and Ethernet Transport services, along with the power of CloudHop™, can help your business transform from a group of isolated, disparate systems into a modern, hybrid cloud architecture. 
VPLS Hybrid Cloud service
VPLS has been at the forefront of VMware Cloud Hosting as one of the first VMware certified service providers to achieve vCloud Powered status for enabling both Public and VMware Hybrid Cloud services utilizing vSphere and vCloud Director technologies. Current VMware technology customers can rest assured that their virtual machines are compatible with VPLS Hybrid Cloud services powered by VMware vCloud technology.
Seamlessly integrate data, applications and functions with hybrid cloud environments. Hybrid clouds are combinations of public clouds and private clouds where a portion of their infrastructures intersect. At the intersecting points, users of both public and private clouds enjoy the flexibility and agility of putting on or pulling off data from hybrid data centers without compromising compliance and security.
VPLS's VMware hybrid cloud platform allows enterprise users the flexibility and security they need. VPLS' VMware enterprise cloud services helps simplify your consumption of the cloud and transforms your IT infrastructure in radical ways, helping you achieve more business efficiency and address the needs of your customers.
Benefits of a VPLS Hybrid Cloud
Flexible
VPLS Hybrid Cloud allows you more room for flexibility as it can easily be scaled up and down and use the amount of space in the cloud that you need and pay exactly for it. Once your business demands more of the cloud, you can subscribe for a bigger package or upgrade your existing virtual machines with just a few taps and clicks.
Impeccable Backups
Greater Security & Compliance
Effective Extensions of Your Data Center
Connect to VPLS Hybrid Cloud with vCloud Connector
vCloud Connector allows existing VMware vSphere customers to easily consume VPLS Hybrid Cloud services by simply moving workloads to the Cloud from the VMware vSphere client. VPLS Hybrid Cloud connects to your organization's Private Cloud via secure IPsec VPN tunnels and becomes an extension of your data center so you can start consuming VPLS Cloud Pool resources in both Pay-per-Use or subscription based consumption models. Scale your resources up and down as you see fit with the agility your business desires. Request a demo from a VPLS Cloud Specialist.
Whether you are currently using Public or Private Cloud only resources you should always protect your cloud and virtual machine resources with enterprise cloud backup solutions from VPLS. VPLS offers both on premise Disaster Recovery in a Box (DRIB) and Disaster Recovery as a Service solutions that fit all your requirements and budgets. As a Veeam Silver Cloud Provider we use best in class enterprise backup solutions to tackle your problems. For current Nimble Storage SAN customers, VPLS offers completely secure Nimble Storage replication services to the Cloud.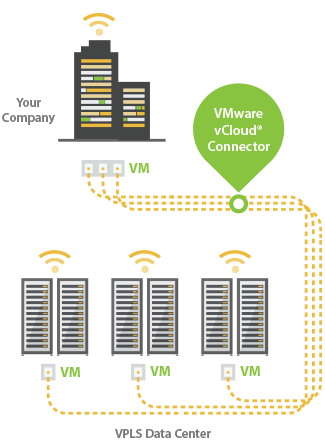 VPLS Managed Enterprise Cloud offers a seamless transition to the cloud
Migrating your existing IT infrastructure to the Cloud can be a very daunting task for small and medium sized businesses. Such a transition needs to be planned for, and well executed so that none of your mission critical data gets lost and downtime is minimized.
VPLS Managed Enterprise Cloud services is comprised of VPLS Professional Services which allows for this transition to the Cloud to occur seamlessly. For example, integration, migration, and onboarding and second day support services are available to you by the VPLS Technical Assistance Center (vTAC). VPLS Managed Enterprise Cloud services can even help you to create and innovate your very own Cloud with dedicated resources and hardware.
VPLS utilizes virtualization technology from the leaders in the space, VMware vSphere and vCloud, Microsoft Hyper-V and Azure on-premise, Xen and KVM. We also integrate with public Cloud services like Amazon Web Services and Microsoft Azure to provide additional services such as low cost storage archiving, CDN, and desktop services. VPLS' VMware cloud services is powered by vCloud technology and we were 1 of 31 original vCloud Powered Distinguished Service Providers. Discuss your Cloud migration strategy with one of our representatives now and see how VPLS can assist you with your enterprise cloud requirements.
What you get with our Managed Enterprise Cloud
The VPLS team of highly trained experts will assist you with the planning and execution of your cloud deployment strategy, following industry best practices.
Proof of Concept Guidelines
This is a pilot phase of the project in which we demonstrate the powers and benefits of the Cloud particular to your business and industry. Your engineers will be trained on how to use our Cloud platform and gain hands on knowledge and experience with seeing how applications will work on our platform.
Designing Applications for High Availability
Architectures & Best Practices
Security & Compliance Workshops
Planning & Scaling Workshops
Backup & Disaster Recovery Planning
VPLS partners with the best technology companies such as HyTrust DataControl for VM encryption with FIPS-approved AES-128/256 encryption for data at rest and in flight. HyTrust encrypts the entire Operating System and all blocks as they are created and written. Their advance technology can detect the difference between a "Gold Master" snapshot image and a VM that was cloned maliciously. A VM or group of VM's can be re-keyed quickly and easily without impacting the performance of the live VM. To learn more about HyTrust and how it can help put your mind at ease when migrating to the Cloud please contact us today!
The Cloud is now the wave of the future. You can drastically trim your IT expenses by moving your existing IT infrastructure to the Cloud. Our dedicated staff will help you make this transition quick and efficient, according to your needs and specifications. But, our dedication to you does not end there. After your migration to the Cloud is complete, your post migration care will be handled by our 5-star rated 24×7 VPLS Technical Assistance Center.
VPLS Managed Enterprise Cloud services are powered by the VMware vCloud technology which offers robust API access, dedicated and guaranteed computing resources, secure private network isolation, and high availability, all guaranteed by an industry leading 100% Service Level Agreement (SLA).
Powered by VMware vCloud technology
VPLS' Hybrid Cloud and Managed Enterprise Cloud are powered by VMware vCloud technology, which offers robust API access, dedicated and guaranteed computing resources, secure private network isolation, and high availability, all guaranteed by an industry leading 100% Service Level Agreement (SLA).
What's Included in our SLA
High Availability
All Cloud Pool resources are protected with High Availability against host server failures to increase uptime. Application aware High Availability is also available for databases such as Microsoft SQL Server.
Multiple Storage Tiers
Secure Network Control
API Access
Resource & App Monitoring