Technology Certifications
18 data centers worldwide.
68,000+ servers under
management.
As a leading cloud to edge services provider, VPLS prides ourselves on the value, efficiency, and scalability we bring to our clients worldwide. From cloud services to hosting, colocation, and more, we are the best fit for IT solutions for businesses of all sizes.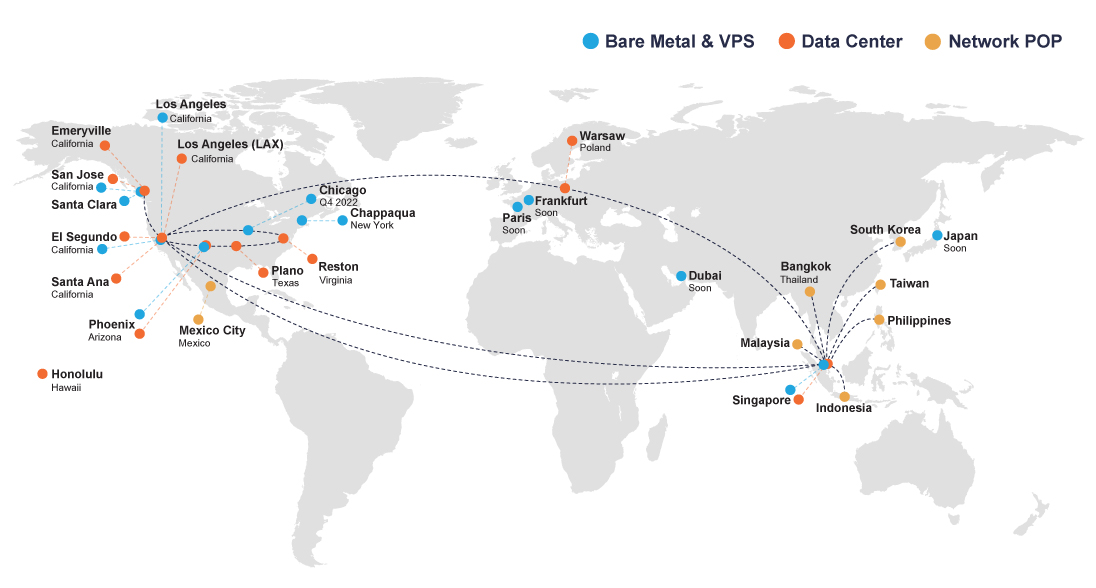 Our network of data centers at VPLS is one of the most diverse and robust in the industry today. VPLS specializes in colocation and our large data center network shows just how far we've gone while still growing. We provide managed full-scale IT services within almost any scope, all over the world. We currently have 18 data centers spread throughout North America, Europe, and Asia. VPLS also has over 68,000 servers in management and is expanding quickly. This gives us a global reach that helps offer premium managed IT solutions for businesses in a wide variety of markets and places.
For nearly 25 years, VPLS has been offering enterprise-level hosting and server colocation solutions as an IT services provider for companies from all over the world. Our dedicated servers brand, Krypt, utilizes our unique Infrastructure-as-a-Service (IaaS) platform to provide bare metal and virtual hosting in a variety of areas. Each of our services are scalable, measurable, and adaptable to fit our clients' needs.
To learn more or schedule a discovery call, please call us at (888) 365-2656 or contact us here!
From cabinets to cages, cross-connects to managed colocation, VPLS offers extensive premium server colocation solutions worldwide. Don't risk time and money by trying to handle colocation all on your own. Let VPLS assess your needs, customize a plan of action, and execute it for you. Our colocation services mitigate risk, lower costs, leverage our powerful network, and create vital redundancies in case of emergencies.
To learn more or schedule a discovery call, call us at (888) 365-2656 or contact us here!
Looking to add network services to your business? Look no further than VPLS. We are HIPAA, IDS, ISAE, SSAE, SOC2, and PCI DSS compliant to ensure maximum security and accountability. Our network services include internet connectivity, ethernet transport, DDoS protection, points of presence, and network partnership.
To learn more or schedule a discovery call, call us at (888) 365-2656 or contact us here!
VPLS has established strategic partnerships with some of the biggest software and hardware companies in the industry. These partnerships include brands like Cisco, Dell, Fortinet, HPE, Veeam, Extreme Networks, Palo Alto Networks, Ruckus, and Supermicro, to name a few. This allows us to provide you with the best third-party products and services your business demands.
To learn more about our colocation services or schedule a discovery, contact us at (888) 365-2656 or contact us here!
VPLS has a dedicated team ready to provide professional services for any of your unique IT project needs. Our team holds 78 Cisco certifications, 29 Brocade certifications, 95 VMware certifications, and five Palo Alto Networks certifications.
To learn more or schedule your discovery call, reach us at (888) 365-2656 or contact us here!
Aspera has grown with VPLS from a compact cabinet and a 1G connection to a full sized cabinet and a dedicated 10G connection. Prices are competitive, the location is safe and always secure, the availability is 24/7, and the VPLS crew has been great in providing us with everything we need.
Match Analysis has been with VPLS since 2004. Their facility is ideal for local colocation, allowing us to have access to our servers 24/7. The uptime and security are excellent, with the team accommodating to all our IT needs. Also, the Site Team is technically savvy and able to assist whenever we need help.
After over two decades and several firms, the one constant has been my primary data center provider, VPLS. Their facilities are superb, and the staff is to-notch. Whether it's a fast growing startup, an international SAAS, or specialized secure services for fortune 50 clients, VPLS in Emeryville is an excellent choice
When you need agility, flexibility, and expertise look no further than VPLS for all your data center needs. We were onboarded on Wednesday with a full move into the facility by Saturday afternoon! The data center team made sure that every one of our internal objectives was met throughout this process with clear communication at every step.
Trusted by companies and brands for customized, reliable IT solutions.
Hear from business and IT leaders about why they chose VPLS for their IT projects.