VPLS Migrates and Upgrades Driven Solutions' Hosting Infrastructure
Driven Solutions partnered with VPLS to migrate their existing hosting infrastructure from their local office to VPLS's Plano Data Center (DA1). Upgrading to an enterprise data center has allowed Driven Solutions to consolidate their equipment and gain access to improved infrastructure and network connectivity.
Why Upgrade to an Enterprise Data Center
Because their equipment was approaching end-of-life, it was a perfect time for Driven Solutions to upgrade to better equipment that would easily support their growth and PCI requirements.
VPLS's tier III DA1 data center boasts an ultra-low PUE of 1.15 which allows it to have the lowest power and cooling rates in the nation. With over 7,400 sqft of private colocation space and a carrier-rich network, DA1 makes it easy for companies to affordably scale from a single rack to several cabinets, all in a secure and highly compliant environment.
As part of the infrastructure migration, VPLS consolidated the 10-rack footprint originally hosted in Driven Solutions' office into a single high-density rack in DA1. VPLS also selected and configured new Juniper firewalls to use for the deployment, which included the seamless transfer of Driven Solutions' old Cisco firewall rules into the new Juniper system. 
"VPLS executed the migration efficiently and without error," states Tolstoy, Chief Technology Officer at Driven Solutions. "Their remote Ops team walked us through every step of the process, helping us with any obstacles we faced in real-time. We are incredibly pleased with the quality of service VPLS offers and look forward to working with them again in the future." 
A Seamless 8-Hour Migration
The migration took place in an 8-hour window, allowing the Driven Solutions' team to start work in the morning after the move without an issue. VPLS provided a reliable plan with proactive support through the entire migration process, from conception to final execution. Driven Solutions also benefited from VPLS' quality facilities and VPLS's experienced team of data center operators and migration experts.
"We are pleased to now support Driven Solutions in our enterprise data center," states John Minnix, VP of Sales and Marketing at VPLS. "Our state-of-the-art facilities offer better cooling and power infrastructures, as well as reliable and robust Internet access. We are very excited to have successfully completed this migration for Driven Solutions. VPLS is committed to helping our customers consolidate and update their network infrastructure to support their growing teams."
Read about other successful VPLS projects: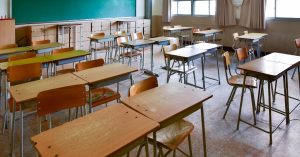 Case Study
ESUSD's onsite data center was located at the District Office in a portion of the facility originally designed for storage. Over the years, the facility was prone to frequent power outages.
Read More »