How Can Your School Benefit from Cyber Security?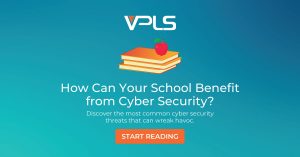 When one thinks about data breaches and the importance of cyber security, typically horrific cyber attack stories pertaining to financial services or healthcare organizations come to mind. However, there is another industry where cyber security might be even more important.
Education systems, including K-12 school districts, colleges, and universities, also experience cyberattacks, in fact, during the first half of 2017, the education sector alone made up 13 percent of data breaches (Fortinet.com).
This is because education systems store a large sum of sensitive and personal financial information, research data, and intellectual property that a cyber attacker finds extremely valuable.
Many businesses, including education systems, cannot afford to hire their own highly specialized staff to monitor and protect their data 24/7. Specifically for schools, their top priority should be providing high quality education to their students, however, it is also important that they pay attention to securing their data. Fortunately, VPLS, being an AlienVault Gold Managed Service Provider (MSP), offers AlienVault USM in order to guarantee the best cybersecurity to its clients, putting schools' undivided attention on education. When schools hire VPLS , they will receive Security Information & Event Management (SIEM), asset discovery, behavioral monitoring, vulnerability assessment, and intrusion detection through AlientVault USM which will enable clients to detect and respond to attacks quicker and with greater intelligence. To learn more about these services, see Managed Security Solutions on our website.
Listed below are the most common cyber security threats to schools which can be resolved with the help of VPLS:
Distributed Denial of Service happens when numerous comprised computer systems attack a service, website, or other network service to deny the users of the targeted resource.
Link security usually comes from a direct contact through email, texts, or messages on social media that contain dangerous links that will infiltrate the receiver's data when clicked.
Schools should always upgrade the software on their devices and block access to certain apps to ensure that the software has the highest security available. Out of date technology makes it easier for cyber criminals to target the devices with the weakest security.
Staff may be uneducated on cyber security which may cause carelessness when protecting sensitive information.
When a cyberattack happens, it is important to have a remote server to receive and store data throughout the day in order to ensure that no information gets lost
With the influx of cyber criminals targeting education systems, our children's personal information can be easily compromised. But with the help of the VPLS team and their deep knowledge of safeguarding against cyber security, schools can rest assured knowing they are in good hands and can once again focus on their most important priority: educating the future generation.
Don't forget, VPLS is a Fortinet Gold Managed Security Service Provider, to provide maximum security for all your web and database server needs.
Read More from this Author
If you enjoyed this article, you'll probably like: