The Importance of Managed SIEM Security in School Districts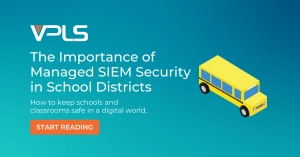 When it comes to cyber-security, K-12 school districts have more to lose now than before. In addition to new threats and breaches, cyber-security can also prevent schools from achieving and maintaining unique K-12 requirements, such as FERPA and CIP, which can lead to numerous funding and liability issues in the long run. Educational institutions are especially susceptible to a multitude of cyberattacks. Along with unexpected breaches, overlooked access points in data systems can provide cybercriminals an entry to obtain classified and valuable data.
While onsite Security Analysts can help monitor your school premises, many signs or evidence of cybercrimes remain buried within your extensive data log which can go unnoticed for long periods of time. Inevitably, some attacks will also go undetected due to human oversight. This is why having VPLS Managed Security Information and Event Management (SIEM) services at your school environment is extremely crucial to help prevent this form of serious data and revenue loss.
Having Managed SIEM Services by VPLS at your district helps Security Analysts identify any potential attack that may cause immediate damage, calling for a quicker response to take preventative action. Our Managed SIEM services record all security-related activities, such as malware related activity patterns, as well as other suspicious activities, like multiple login attempts, and will alert analysts with a detailed report on the incident, ensuring the right people are aware of what is going on. VPLS Managed SIEM services can also help your K-12 environment be FERPA, CIP, and PCI compliant by backing your school with proper legal and operational specifications. VPLS Managed SIEM Services protect and strengthen any vulnerabilities you have within your data system. Experts at VPLS accomplish this by continuous vulnerability monitoring and regular network vulnerability testing.
Why choose VPLS as your Managed SIEM Service provider?
 VPLS is an AlienVault Gold Managed Service Provider and deploys AlienVault Unified Security Management (USM) to protect thousands of endpoints. Our team of experts are highly skilled and experienced in IT Solutions across-the-board to ensure only the most reliable and professional assistance for your environment. Learn more about how schools can benefit from cyber security.
To learn more about our Managed Security Information Event Management, contact VPLS today!
Read More from this Author
If you enjoyed this article, you'll probably like: