Easy and Essential Cyber Security Habits: Part 4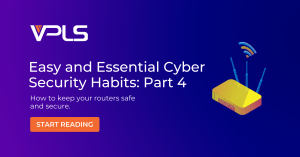 It's never too late to start new cyber security habits so why not start now.
Time for the final part of our series where we'll be giving you tips the ways you can keep your router safe
If you have home Wi-Fi, chances are you have a router that goes along with it. But has it ever crossed your mind that your router can also be compromised? Let's see what actions you can take in order to prevent such an unfortunate scenario from ever occurring.
The password to your router can be the entry way for a hacker access your data.
So, in order to make sure that you keep hackers at bay, create a complex password and change the router's username on a regular basis.
If there are features on your router that are not currently being used, it would be in your best interest to disable them, especially if they are features that allow for remote access. Otherwise you risk being potentially hacked.
If you are able to create different networks on your router, then by all means, you should! By doing this, you minimize your devices' exposure to vulnerabilities that may be lurking around.
Most current routers come equipped with firewalls in order to monitor the flow of traffic on devices and determine what connections should be allowed.
Update, Update, Update and More Updating!
Just as you would install updates on your other devices in order to protect against any potential vulnerabilities, you need to do the same with your router. However, while your computer or phone may prompt you to update automatically, routers do not possess such a convenient feature. You will just have to remind yourself to update your router regularly to provide the most current security to your devices.
Like most of us, you probably have several devices connected to your router, but are you able to identify what devices are connected to it? If you answered no, then you should take it upon yourself to know which devices you have connected to your router. This way, you can identify and verify any unauthorized devices that are not connected to your router that may compromise your information.
We hope you enjoyed this blog series and learned about the various ways you can start your easy and essential cyber security habits today! Remember it's never too late to form better cyber security habits!
Did you miss this series? Check out Part 1 and Part 2 for more easy and essential cyber security tips.
Read More from this Author
If you enjoyed this article, you'll probably like: