Windows 10 Tips and Tricks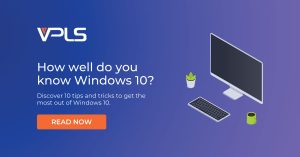 Chances are, you or someone you know owns a Windows 10 device. Windows 10 is a popular operating system with numerous user-friendly features. But to some, the amount of features and shortcuts available on Windows 10 can appear daunting…Fortunately, VPLS is very familiar with Windows and can break it down for you. So here is our list of Windows 10 tips and tricks you can start implementing into your everyday computer tasks right away!
Windows Timeline (Windows Key + Tab)
Windows Timeline gives you a visual timeline of your recent apps. People tend to forget which app they need while multitasking throughout the day. Rather than clicking through every app from your taskbar, use this shortcut to visually find the app you are looking for. You will no longer have to manually click through all of your apps using the Windows Timeline feature.
You can now lock your computer by walking away from it using Dynamic Lock. To use this feature, connect your phone's Bluetooth to your Windows 10 device. Then turn on the Dynamic Lock feature found in Settings. Once your phone is out of your Window's 10 Bluetooth range, your computer will lock automatically. You don't have to worry about forgetting to lock your device anymore! If you don't want to use the Dynamic Lock feature, there are other alternatives. Use the shortcut Windows Key + L to quickly lock your laptop when you need to step out for a minute.

Windows Key + G
Windows Game Bar gives you access to different features such as screenshotting, the ability to record the last 30 seconds, or the ability to record instantly. You can easily record your gameplay using Game Bar.
This shortcut is not exclusive to just "gamers". Use this feature while web browsing to record and screenshot the interesting pages you find on the internet. Whether it's a Pinterest board or a small YouTube clip, you can still use the Game Bar to record these items and save it for later use.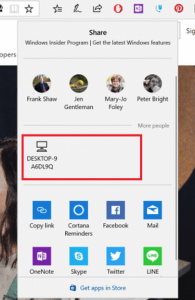 Set up Night Light if you plan to use your computer at night time. The light your eyes see from your ordinary computer screen is similar to the colors your eyes see during the daytime. Because of this, your body is tricked into thinking that it is still daytime, making it harder for you to sleep. Night Light will emit warmer colors on your screen which is less harsh on your eyes. This feature lets you use your computer at night without disrupting your sleep pattern.
Near Share allows people with Windows 10 devices to exchange files and images via Bluetooth. To use Near Share, select a file from file explorer you want to share using the "share tab". Once shared, the receiving party should get a notification to save the file on their own computer. This eliminates the need for USB Drives, making sharing files and images faster and much more convenient. In addition, you can share links with other Windows 10 devices via Microsoft Edge. Visit the link you want to share and then click the share icon. The receiving party will then get a notification to accept your link share.
Here are a few keyboard shortcuts that feature the windows key. These shortcuts may come in handy when using your Windows 10 device.
Windows Key: Open/Start menu
Windows Key + A: Open Action Center
Windows Key + Alt + D:Display/Hide Calendar and Time
Windows Key + I: Open Settings
Windows Key + M: Minimize all Windows
Windows Key + T: Cycle Through Taskbar Apps
Windows Key + L: Lock your Computer
Windows Key+ E: Open File Explorer
Touchpad shortcuts
There are touchpad shortcuts that a traditional mouse cannot accomplish. Take advantage of these touchpad shortcuts to save you time and energy!
Place two fingers and pinch/stretch to Zoom In or Out
Place three fingers and swipe upwards to access Windows Timeline
Place three fingers and swipe down to see Desktop
Place three fingers and swipe right or left to switch between Windows
Tap three fingers to open Cortana.
VPLS hopes that you find these Windows 10 tips and tricks easy-to-use and helpful! These shortcuts will make your Windows 10 experience more enjoyable, thus making your daily lives more efficient!
If you want to keep up with the latest security trends and other IT related products and services, please visit the VPLS blog and stay current with the latest news!
Don't forget, VPLS is a Fortinet Gold Managed Security Service Provider, to provide maximum security for all your web and database server needs.
Read More from this Author
If you enjoyed this article, you'll probably like: