Factor In Your Tech Environment's Security: 3 Reasons to Safeguard Your I.T. Business with a Multi-Factor Authentication Service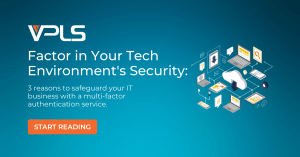 With the trend of modern-day hacks continuously being on the rise, it will no longer be a matter of "if" your organization will be at the receiving end of a devastating cyber-attack, but "when".
How well your business will recover in the aftermath will strictly be determined by these two factors: a) How informed your people are; and b) How secured your technology is.If these two reasons alone are not enough for you to take immediate action, VPLS has compiled a list of another top 3 reasons to see why it is crucial to protect your IT premises with a solid multi-factor authentication service.
1. You Can Be a Victim of Identity Theft
Identity theft has become the fastest-growing type of crime due to its easy low-risk and high-reward nature. This has become a favorite method to gain valuable information amongst cybercriminals, therefore making it more prevalent now. Identity theft is a major threat to all businesses and has proven to be more profitable than drug-related crimes.
2. Your User Credentials and Password Can Be Stolen
According to 2018 Data Breach Investigations Report, the secret weapon behind 95% of all Web application attacks are weak or stolen user credentials. Additionally, password theft is a crime that comes easy to experienced crooks thanks to their ability to easily figure out credential and password patterns. They use commonly known methods like phishing, pharming, and keylogging to gain access to user's accounts.
3. Your Employees' Predictable Habits Can Be Leveraged
Some of the easiest targets for hackers are those who are creatures of habit; they perform the same tasks every single day at the same exact time. An example of this would be employees who use the same password for every account they own. Although your environment can already have advanced firewalls and anti-virus systems securely in place, without a multi-factor authentication system, your organization is still unknowingly giving intruders a way in that will ultimately lead you into trouble.
And finally, if you read all of these reasons and you are still not convinced that you need a multi-factor authentication system to better protect your organization, consider this fact: Cybercriminals are not just stealing your data, but they often destroy valuable data and use your servers to change programs or services to transmit spam or malicious code to all your contacts…
Think about how this possible (and, probable) scenario can affect your company's and your employees' livelihood.
Fortunately, you can prevent all this from ever taking place by instilling a strong user and data security service, via a robust multi-factor authentication method, through a reputable source such as VPLS. VPLS' Duo Multi-Factor Authentication (MFA) services will help tamper-proof and error-proof your IT environment to provide nothing but true authenticity amongst your team, so take the first step in ensuring the best outcome for you and contact us today!
Read More from this Author
If you enjoyed this article, you'll probably like: