The Important Difference Between Backup and Disaster Recovery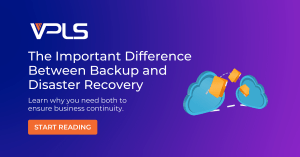 It is a common, but disastrous misconception to think that backup and disaster recovery are the same. This confusion can cause a plethora of data security issues that can potentially hurt the company and damage its brand. Many believe that just a backup alone is enough to prevent data loss in the event of a disaster. However, a backup process is only the beginning stage of a necessary disaster recovery plan. In order to guarantee a business's data is secured to the fullest, companies need to have a disaster recovery plan in place.
Join VPLS as we delve into what the difference between a Backup and a Disaster Recovery is and why it is extremely necessary to have both for your IT organization.
Backup is the process of making copies of files as an alternative in case original data is compromised.
What is Disaster Recovery?
Disaster Recovery is a set of procedures designed to protect IT infrastructure in the case of a disaster.
Now that we have identified what each of those procedures consist of, let's have an expert explain the importance of utilizing both at your tech environment. Darryl Vidal, VPLS's Director of Operations, shares his input on why it is always best to have both backup and disaster recovery for your company: "You have to do both; if you have a backup but no disaster recovery, your backup could be lost for good [with no way of recovering it]."
We take data loss very seriously here at VPLS, our team has come up with a handful of solutions and services to ensure that our customers' data is secured even in the most unpredictable worst-case disaster scenarios! The following are some VPLS services designed to help prevent data loss for your IT organization:
VPLS Colocation services offer geographically-diverse data centers located all over the world to store our customers' physical backup with 24/7 monitoring and support. Our physical storage is backed up to the cloud for additional security and surveillance.
VPLS Backup and Replication
Disaster Recovery as a Service (DRaaS)
With the help of our business and internal infrastructure, VPLS DRaaS services can gain experience and expertise in real-world situations to create disaster recovery plans for companies of all sizes. VPLS partners with leading software companies who specialize in disaster recovery to provide reliable and quick recovery.
VPLS partners with reputable vendors such as Veeam to guarantee our customers reliable Managed Cloud Backup plans. With Veeam Cloud Connect, the need for VPN tunnels is eliminated and users are able to monitor their backups while having full visibility to storage data.
For more information about VPLS' Backup and DRaaS options and services, please contact us today!
Read More from this Author
If you enjoyed this article, you'll probably like: