A Closer Look at Technologies Enabling Remote Work: VDI vs VPN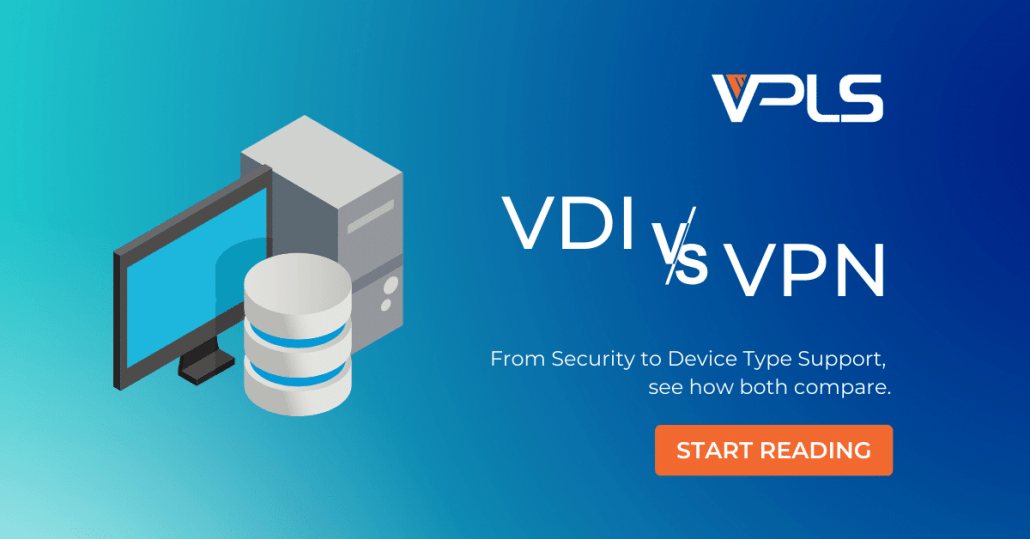 Government shelter-in-place orders due to COVID-19 have forced organizations to transition their employees to remote work, often for the first time. Unexpectedly, many of these organizations are seeing benefits to this new work-from-home policy—so much so, that leaving in place the ability to work from home even after the orders have lifted is now on the corporate roadmap.
Whether temporary or permanent, there are challenges to implementing work-from-home successfully and securely—internet and infrastructure stability, user access control, and securing company data, just to name a few.
With these challenges in mind, two of the most popular options for setting up a remote workspace are VPN and VDI. It's important to know the differences between each option in order to select which, if not both, is the right fit for your business.
VDI stands for Virtual Desktop Infrastructure and is the name given to a server that hosts personalized "virtual" desktops for your employees. Rather than assigning a corporate PC to each employee, this virtual desktop can be connected to any physical computer or even an inexpensive piece of hardware called a "thin client" or "zero client".
After the user authenticates successfully, they will be taken to their personal virtual desktop instance, which provides the user the same experience as if they were using a normal PC. Since the virtual desktop is hosted within the corporate infrastructure, users will also have secure access to corporate applications and files.
VPN or Virtual Private Network technology focuses on extending the corporate network to a remote PC or remote office. This is accomplished by creating a secure "tunnel" over the Internet between the corporate office and the remote location, which not only secures all data that goes between the corporate office and the remote employee, but also allows the remote employee's PC or office to logically act like it is part of the corporate network.
By simply installing VPN client software or even just using a web browser on the remote PC, the user can access business applications and files just like they were sitting at the office.
Is VPN or VDI right for your organization?
In the context of remote work, both solutions have similar value propositions: they allow your employees to securely work from home. However, this is where the similarities end. Below are some key differentiators to consider when selecting a solution for your business.
The security of a remote access solution gets first priority in this debate. Both VPN and VDI ensure confidentiality and integrity of data transferred to and from the corporate network, and user authentication can optionally be secured with multi-factor authentication in both solutions.
However, VDI does have an advantage if the organization needs to allow users to connect with their own personal devices (BYOD). This is because only the virtual desktop has access to corporate files and applications, not the connecting PC, so the organization does not have to worry about corporate data being saved on personal devices.
Even with this advantage for VDI, since VPN can be restricted to only corporate-issued devices—and that's the restriction that many of our customers want—we will have to award security as a tie overall.
Winner: Tie
As mentioned above, VDI provides remote access to a virtual desktop from any device, which is quite convenient, but it provides access ONLY to this virtual desktop. For employees that have non-PC corporate devices, like a desk phone, corporate cell phone, or IOT device, VPN is the only solution that can provide remote corporate connectivity for them.
Note that this type of VPN setup typically mandates a physical VPN gateway appliance be deployed at the user's home office in lieu of the VPN client software we described above.
Winner: VPN
With VPN, the secure tunnel is set up between the user's remote PC and the corporate network, and any attempts to access resources at HQ requires data to traverse this tunnel. This puts bandwidth demands on both the user's home Internet connection and, as the number of users increases, the Internet connection at HQ too.
VDI has less bandwidth requirements compared to VPN because the virtual desktop is already on the corporate network. Only minimal data is sent between the remote user and the virtual desktop itself.
Winner: VDI
USER EXPERIENCE & TRAINING
Users will have to be onboarded and trained when VDI is deployed, as they are essentially getting a new virtual computer.
With VPN, however, the users may have to be trained on how to connect using the VPN software, but generally speaking, the user experience won't change for them—their computer (and any other devices) will look and feel the same.
Winner: VPN
Both solutions have similar overhead when it comes to maintaining policies related to user authentication and access control, but if you consider managing the remote users' endpoints, then VDI and VPN do differ.
With VPN, a responsible organization would have to ensure a remote user's PC is "locked down" through the use of Microsoft Group Policy and/or MDM software, since it will be this PC that will be actually connecting back to the corporate network.
With VDI, all the virtual desktops are configured and managed in one place: within the VDI infrastructure. This centralization allows for the flexibility of the virtual desktops to be reconfigured or reimaged at any time, with or without the user being present. This is just plain harder to do with remote physical machines.
Winner: VDI
And the winner is…
The goal of this blog post was to share some insight into why VPN and VDI are leading in today's work-from-home options, and with the benefits discussed above we hope it is easy to see why. Which one is right for your organization depends on your business' unique structure and requirements, and often our clients will utilize both technologies to satisfy the needs of their diverse workforce.
It's important to keep in mind that either solution can be set up quickly by an experienced engineer and can be architected to support any number of users an organization requires, both now and into the future.
If your organization wants to discuss the unique work-from-home challenges you are facing, such as not having the proper staff to get a solution deployed quickly, please reach out to us; VPLS is here to help.
Read More from this Author
If you enjoyed this article, you'll probably like: