Does Your Business Need A Managed Service Provider?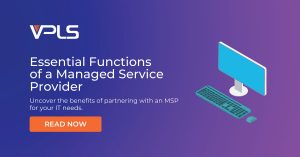 In this week's VPLS blog, we discuss the what, how, and why of a Managed Service Provider and the many ways an MSP can help you manage your business technology through budget-friendly IT services and solutions. Take a closer look at how your business can benefit and why you should consider employing a Managed Service Provider (MSP) to fit all your IT Service needs.
What is a Managed Service Provider?
Managed Service Providers (MSP) exist to help businesses of all sizes, take care of day-to-day activities that are normally handled by the business' IT department. Ask any IT director in the business and they'll tell you the workload amount on any given day can stack up pretty high, pretty quickly. Not to mention any unexpected fires that may cause the entire department to spring into action.
MSPs help alleviate IT department workloads by taking over much of the tedious, yet essential tasks, that keep the business running smoothly.
Daily or weekly IT tasks may include:
Update and maintain daily performance of computer systems
Respond to technical queries posed by company staff
Draft and implement disaster recovery and solutions plans
Test and evaluate new technology
Implement and support new software applications
Assistance and support related to software and hardware issues
How can my business benefit from a Managed Service Provider?
As mentioned, MSPs can supplement an established IT department by focusing on maintaining, securing, and resolving any hardware or software issues that may arise on a day-to-day basis. MSPs are also beneficial to small businesses that do not have the budget for an entire IT department, yet still need the service and care of professionals to keep things running perfectly.
Depending on the scope and quality of the MSP, IT support may be available 24/7, assuring your business never leaves your customers in the dark. Additionally, MSPs can shield your confidential business and customer billing information by evaluating cybersecurity weaknesses and needs.
Why should I consider an MSP?
Now that we understand the importance that MSPs play in the business world, let's take a look at why you should consider partnering up with a MSP to meet your business needs.
Don't waste more time, energy, and resources battling daily IT tasks. With a MSP, the IT department can shift their focus on innovation and build momentum towards bigger profits.
No vacation days. No sick days. If and when a technical problem arises, you can trust your MSP to be on the job, or just a phone call away towards better news.
IT labor and staffing costs are expensive. Even small businesses with a single "IT" guy on staff can rack up heavy bills, especially with sophisticated technology and on-going training.
In today's world, cybersecurity is of huge importance as hackers and their tools continue to evolve. Staying up-to-date with the latest cybersecurity vulnerabilities is a full-time job.
Consider partnering up with a quality Managed Service Provider that prides itself on customer satisfaction. VPLS offers a variety of options and flexible prices to fit all IT budget needs, with many years of experience in securing confidential data and maintaining security compliance.
Be sure to check out VPLS Managed IT Support Services or VPLS Co-Managed IT Solutions for more information. VPLS is a worldwide IT Solutions leader, located in Orange County and Los Angeles County, California. Questions or concerns? Email us and a friendly VPLS support team member will be in touch shortly!
If you want to keep up with the latest security trends and other IT related products and services, please visit the VPLS blog and stay current with the latest news!
Read More from this Author
If you enjoyed this article, you'll probably like: