Cybersecurity Tips: Back-to-School Edition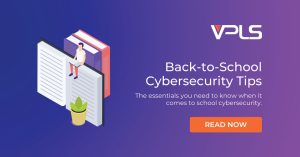 Schools are integrating more and more technology into their classrooms, requiring students to have computers, mobile devices, and other tech gadgets to be successful. As students become accustomed to technology in their everyday lives, they forget basic cybersecurity fundamentals.
The fear of being hacked should be the least of any student's worry, especially during a stressful school year. VPLS offers these tips to help students stay protected throughout the school year.
Social Media that uses Geo-tagging
Make sure all your social media accounts are on private and not public to prevent strangers from stalking your social media accounts. In addition, don't post any personal information on social media such as your school ID, dorm, or other private places. Be aware of the risks of geo-tagging and people having access to your current location.
Click here to read our previous blog about Geo-Tagging Tips.
It is important to keep your account passwords secure. Make sure your passwords don't include any personal information such as your name, birthday, etc. Passwords should include a combination of upper-case letters, lower-case letters, symbols, and numbers. Don't forget to change your password periodically, to ensure ultimate security.
Another tip is to not use the same password for all your accounts. If one of your account's password is hacked, the hacker now has access to your other accounts that use the same password. To avoid this problem, consider using LastPass. LastPass is a free password manager extension that remembers all your passwords used for different accounts. LastPass stores all the passwords in an encrypted vault which is secured by a master password.
Now you do not need to remember all your passwords while having the passwords remain secure.
If you find a random USB drive or other similar hardware in public, do not insert it into your computer. Chances are that it is infected. Hackers can implant viruses into USB drives that can infect computers once they plug it in.
Hackers can access the infected computer and gain access to their private information. Only use your own USB drives or USB drives from a trusted source. Do not use one that is not your own.
Phishing is when a scammer tries to trick users into giving them sensitive information by pretending to be a trusted source. Scammers can pretend to be a bank company, IRS, school, or a fan page and ask for your personal information. They can create fake websites, fake emails, or phone calls that seem very similar to the real thing.
Always double check where the source came from before inputting personal information. Remember, companies will never ask for your password. Be sure that websites are secure before adding personal information.
Many shops and public places offer their customers free wi-fi. This may seem very convenient, but you are using unprotected public wi-fi. Hackers can exploit vulnerabilities found in public wi-fi and gain access to your computer and personal information.
If you are using public wi-fi, make sure to use a VPN along with it. This makes public wi-fi act like a private wi-fi, making your information more secure. If you decide not to use a VPN while using public wi-fi, stay away from websites that give off private information.
If you want to keep up with the latest security trends and other IT related products and services, please visit the VPLS blog and stay current with the latest news!
Don't forget, VPLS is a Fortinet Gold Managed Security Service Provider, to provide maximum security for all your web and database server needs.
Read More from this Author
If you enjoyed this article, you'll probably like: