VPLS recognized on CRN's list of Top 500 Solutions Providers for second consecutive year
VPLS earns the #363 spot on the list of Top Solutions Providers for 2020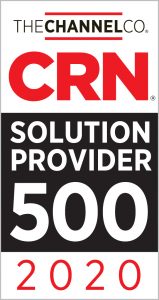 We are excited to announce today that CRN® a brand of The Channel Company, has named VPLS to its 2020 Solution Provider 500 list. 
CRN's Solution Provider 500 list serves as the industry's benchmark for recognizing the top-performing technology integrators, strategic service providers, and IT consultants, and as a valuable resource for technology vendors looking to partner with top solution providers. This marks the second consecutive year that VPLS has been recognized on the Solutions Provider 500 list. In February 2020, VPLS was also named to the CRN 2020 Managed Service Provider (MSP) 500 list in the Elite 150 category (#145).
"CRN's Solution Provider 500 list showcases the top IT channel partner organizations across North America," said Bob Skelley, CEO of The Channel Company. "This year, companies on this list represent a combined revenue of $393 billion, a data point that underscores the impact and influence these solution providers have on the IT industry. On behalf of The Channel Company, I'd like to congratulate these companies for their outstanding contributions to the growth and success of our industry."
"We are honored to once again be acknowledged as a top Solution Provider," stated John Minnix, VP of Sales and Marketing at VPLS. "VPLS is dedicated to our role as a strategic partner for our clients, helping to assess, integrate, and execute IT solutions that will drive business growth. As a partner, we're also committed to expanding our team and portfolio to provide support for all areas of our clients' IT needs, from the cloud to the edge."
VPLS was recently part of a merger that included Evocative Data Centers and VPLS Solutions. The new combined entity now operates under VPLS and represents an expanded portfolio of services that includes data centers, colocation, network services, hosting, cloud services, professional services, managed services, and value-added reseller partner status for brands like HPE, Fortinet, and Veeam.
Read More from this Author
If you enjoyed this article, you'll probably like: