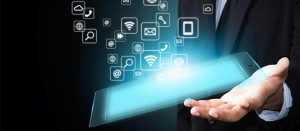 In today's working world, doing your job does not always equate to sitting at a desk in an office.  As a matter of fact, the contrary of that is what is most sought after to accommodate the average busy body; something that is efficient and is easy to access anytime and anywhere, even when you are on the go.  Is such an idea plausible?  It certainly is with Enterprise Mobility services by VPLS.
With our services, you will be able to perform your job duties via cloud through mobile devices of your choice.  You will have the capability to utilize standard communication tools such as email, video conferencing in addition to other office necessities all held together by the digital workplace structure known as the enterprise mobility.
Of course like everything else that is mobile, vulnerability to high security risks is inevitable.  But being ones to always put our customers first, VPLS also offers top-notch security plans powered by AirWatch along with our convenient enterprise mobility services.  AirWatch's notable security services will protect your business by surrounding it with heavily encrypted data giving you peace of mind every time you work…even when you are nowhere near the office!
Contact VPLS today to learn more about our Enterprise Mobility services!