VPLS INC. WAS FOUNDED ON THE CORE VALUES OF PROVIDING
HIGH QUALITY HOSTING AND SUPPORT AT AFFORDABLE PRICES.
VPLS Inc., is a worldwide leader in dedicated cloud and managed services, hosting well over 15,000 servers and 5 million websites. We offer the latest in technology services with affordable pricing, to businesses all over Orange County and Los Angeles County, California.
The VPLS portfolio of products and services covers a wide selection of IT services, such as Infrastructure Management, Public and Private Cloud Deployments, Disaster Recovery and Backups, IT Support Services and Management, Networking, Cyber Security, Data Storage, Web Design and much more.
VPLS hosting brands are ranked within the top websites in the United States, as well as in China and South Korea.
VPLS Solutions, our services division, are able to combine the best in breed technologies from vendors such as Ruckus Networks, Palo Alto, Nimble Storage, VMware and Supermicro to power our services and solutions. VPLS' unique background and history set us apart from other technology solutions provider in that we use what ever we sell. Our engineers have first hand experience on the products they are selling and servicing.
Over 100 VPLS team members are spread across two Southern California locations and Asia: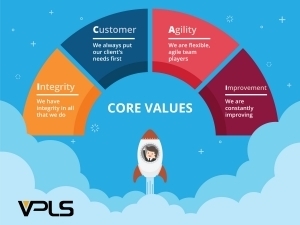 VPLS aims to empower each employee by providing each person the necessary tools to strive within the tech industry. As such, a few of our many accomplishments include:
VPLS Engineers hold the following:

78 Cisco certifications
59 Brocade certifications
127 VMware certifications
20 Veeam certifications
10 Nimble Storage certifications
5 Palo Alto Networks certifications.

We built our own network backbone and manage over 19,242 switch ports and growing in our network.
Our network has over 500+ Gbps of capacity and growing.
An average of 82 trillion bits are transferred over the VPLS network on a daily basis.
Our Technical Assistance Center (vTAC) handled 136,019 support tickets in 2015 from our three fully staffed Network Operations Centers.
We are a VMware Enterprise Service Provider (one the original 31 providers globally)
We operate seven data centers in Los Angeles and Orange County, California, Ashburn, Virginia, Phoenix, Arizona, Bangkok, Thailand and Singapore to meet all colocation and disaster recovery needs.
VPLS is committed to the highest ethical standards, impeccable customer service, and excellent customer response times.