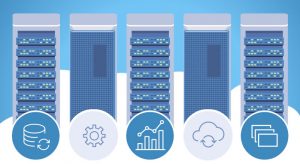 COLOCATION SERVICES PRESENTED BY VPLS 
Does your business have a dedicated server room in-house? Are you looking to expand your networking needs and have run out of room in your facilities? VPLS can help alleviate this burden for your business with our reliable and secure colocation services.
Also known as a carrier hotel or a carrier-neutral (or network-neutral) data center, colocation data centers provide business with services and space where they can create and maintain a point of presence (PoP). Our vTAC operations center are located within each data center, so we can provide you with monitoring and support, 24 hours a day, 7 days a week. By having our vTAC in the colocation facility, you can rest assured that we can provide troubleshooting and bandwidth management services.
Colocation services have many benefits including lower costs, risk mitigation, reliability, redundancy, and connectivity.
Lower Costs
When you choose a data center from a specific center, you have no choice but to pay for your business's bandwidth at their prices. On top of that, when the occasion calls for you to have to change data centers in order to bring down your bandwidth costs, the move itself can be very expensive. When you use VPLS's colocation services on the other hand, you will be able to benefit from carriers competing for your business so you can get the best bandwidth for the most competitive cost.
Risk Mitigation
Whatever the weather conditions may bring—flooding, ice storms, tornadoes, hurricanes, or extreme heat or cold—our colocation facilities are built to resist power outages that may result from these weather events. You can let your mind be at ease knowing that VPLS will be monitoring your networking systems in a climate-controlled environment. Your data and networks will be protected in layers of security and VPLS will monitor your network in real-time, which will significantly reduce any downtime you may experience.
Reliability
Most businesses will not have the resources to have a dedicated staff that can provide 24/7/365 monitoring, but VPLS affordably can. Not only are colocation facilities strictly climate controlled, they also have extensive power and data backups located both locally and remotely. Our power backups include generators and online batteries so you don't need to visit the colocation facility because we have everything under control.
Redundancy
Although redundancy usually relates to power, within colocation facilities, it also refers to data carriers. With VPLS's colocation services, you're not relying on just one carrier to provide your networking needs. Our redundant fiber connections come from various service providers into each of our data centers and offer diverse paths and redundancy into the facilities. With this setup, if one carrier experiences a failure or outage, the other carrier can step in immediately without any downtime.
Connectivity
Our colocation facilities act as connectivity hubs, where many tier-1 network providers have their PoPs on the premises. This gives you a variety of network providers to choose from, and with these numerous choices, you can choose which provider works best for you. As you scale your business, VPLS's colocation services can also grow with your business needs.
—
Whether your networking needs are big or small, whether you're looking for a server, cabinet, or cage, VPLS can provide you with the custom-fit solution for your needs. To learn more about our colocation services, contact us today for more information.