10 Reasons Why You Need Geo-Redundant Colocation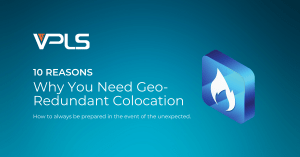 Whether you're seeking a primary or secondary colocation site, building resiliency into your colocation strategy is important to ensure success. Geographic redundancy is one of the ways to help build that resiliency. Here are 10 reasons why we recommend a geo-redundant colocation strategy for your business.
1. Always Prepare for the Unexpected, Seriously
According to Murphy's Law, "What can go wrong, will go wrong." In the case of potentially catastrophic natural disaster such as an earthquake, tornado, or even something like civil unrest, the steps you can take in advance to help mitigate downtime can spell the difference between business success or failure.  
2. Disaster Mitigation Matters
Real disasters happen all the time, but the damage from these large-scale events in a specific regions can be mitigated by developing a geographically redundant infrastructure strategy. You may not be able to predict when and where disaster strikes, but you can tale preventative measures to ensure if and when it does, your business will continue to run smoothly.
3. Data Replication = Your Only Data "Insurance Policy"
By building a strategy of data replication between two or more regions that are geographically diverse, your company can reduce its overall exposure from a single event to almost nothing. Replication is the only way a business can guarantee continuity in the event of a disaster. This way, even if data is destroyed in one location, you have your core data replicated in other locations to keep your business running.
4. Covered from East to West and Texas
Did you know the US is divided into three separate electrical grids? Eastern, Western, and of course the lone-star state we all know and love, Texas. When creating a disaster mitigation strategy, it's important to consider the possibility that a mega earthquake or hurricane can disrupt the electrical supply to an entire portion of our electrical grid. Having core infrastructure backed up to another electrical grid ensures that your business doesn't shut down in the event of a catastrophe.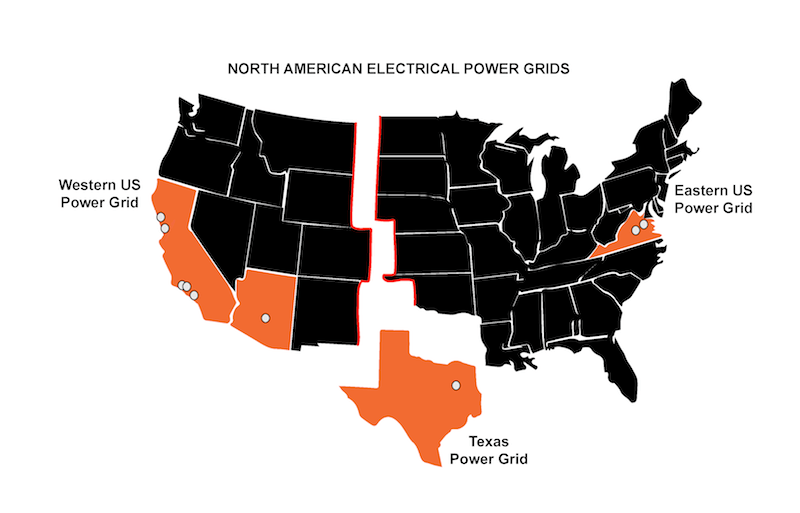 5. Earthquakes, Fires, Tornados, and Hurricanes

Each unique geographic location comes with a unique set of natural disasters. In California, we are constantly battling fires and are always at risk of facing a record-breaking earthquake. The South and Mid-West are plagued by tornadoes and flash floods, while the East Coast is always at risk of a tropical storm or devastating hurricane. Understanding the reality and inevitability of one or more of these disasters can help you create a redundant disaster recovery plan.
Ready to level up your colocation strategy?
Watch a short on-demand presentation to learn how geographically redundant colocation can transform your disaster recovery and data replication lpan.
6. Even If You Think You're Safe, You're Probably Not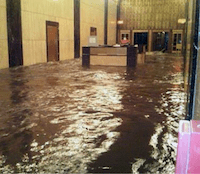 While we're on the subject of natural disasters, let's take a look at what happens when the potential for a natural disaster is underestimated.
In New York, hurricane-grade storms are rare, so when Hurricane Sandy hit, New York wasn't prepared. Flooding was so severe that every road and subway system was completely inundated. By having a geographically redundant facility on the West Coast, a client was able to reduce the impact of the storm on their ongoing business operations. Without this, the company could have lost their accounting data, electronically-stored media, and could have experienced a longer-term impact on office applications
7. The Cloud isn't Actually in the Clouds
Having your data in the cloud doesn't mean your data is safe in the event of a disaster. Major cloud providers may still be impacted during a regional problem and shifting workloads from one region to another via cloud could still have downtime or reduce service implications for your business.
Multi-region public cloud reservations can become expensive when you replicate multiple growing workloads. On the other hand, you can replicate utilizing geo-redundant colocation for a fraction of the cost.
9. Have Layers, Like an Onion
Adding multiple layers to your disaster recovery and data replication strategy is key. Replicating data in the cloud while also having it stored in a colocation facility adds the additional reinforcement your business needs to be prepared in the event of any disaster.
10. The Server in Your Water Closet Won't Make it
When thinking of disaster recovery and replication, it's always good to remember that the server in your water closet probably isn't the best bet.
Instead, you should choose to store your data in a resilient data center facility that is fault-tolerant, can withstand a category F5 tornado, or is situated in a region with relatively low chances of natural disasters, like Arizona.
Is your infrastructure geographically-redundant?
Do you have colocation in geographically diverse regions, on separate electrical grids, and with disparate natural disasters?
Do you have your core infrastructure backed up in another geographic region?
If not, then contact VPLS so we can help find the right solution for you.
Read More from this Author
If you enjoyed this article, you'll probably like: